I fell in love with Organics Studio Walden because of its mega sheen, so I wanted to give Nitrogen Royal Blue a try as well. I purchased my bottle of Nitrogen from Pen Chalet. Nitrogen Royal Blue is from Organics Studio's Elements ink line.
The bottle is 55 ml of ink, and comes in a cardboard box.
The label states that the ink is handmade in Maryland, and talks about what Nitrogen is.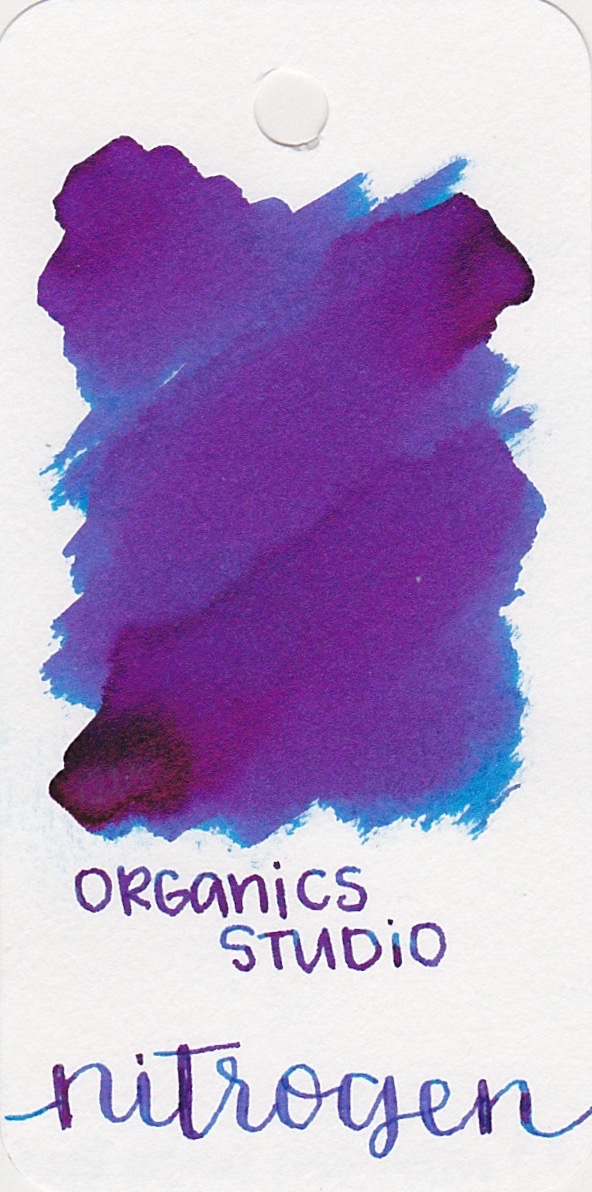 Nitrogen is a medium blue with a boatload of sheen.
This ink will stain your hands like crazy, and it is a bit hard to clean out of pens.
The ink drops look so amazing, I'm in love.
Dry time: In a medium nib on Rhodia paper, Nitrogen took 60 seconds to fully dry.
Water resistance: Nitrogen is not water resistant.
Feathering: Nitrogen only feathered on Baron Fig paper, but did great on the other papers.
Show through: Nitrogen had medium show through on all of the papers.
Bleeding: Nitrogen only bled on Baron Fig paper (in all nib sizes), but did well on the other papers.
Other properties: Nitrogen doesn't have any shading, but I think that's because it's all covered up by the crazy sheen. It does have mega sheen, meaning it sheens in all five nib sizes on Tomoe River, and in five nib sizes on other papers as well. You can see the sheen on all four papers.
Ink swabs for comparison, left to right (or top to bottom for RSS): Organics Studio Copper Turquoise, Organics Studio Nitrogen, and Organics Studio Walden. To see all of the Organics Studio swabs together, click here. Copper Turquoise is lighter than Nitrogen, and has less sheen. Walden is more teal, and has just a bit more sheen than Nitrogen.
Sailor Jentle Sky High, Akkerman #5 Shocking Blue, and Diamine Majestic Blue. To see all of the blue inks together, click here. I think Shocking Blue and Majestic Blue are the closest to Nitrogen, but both of them have less sheen than Nitrogen does.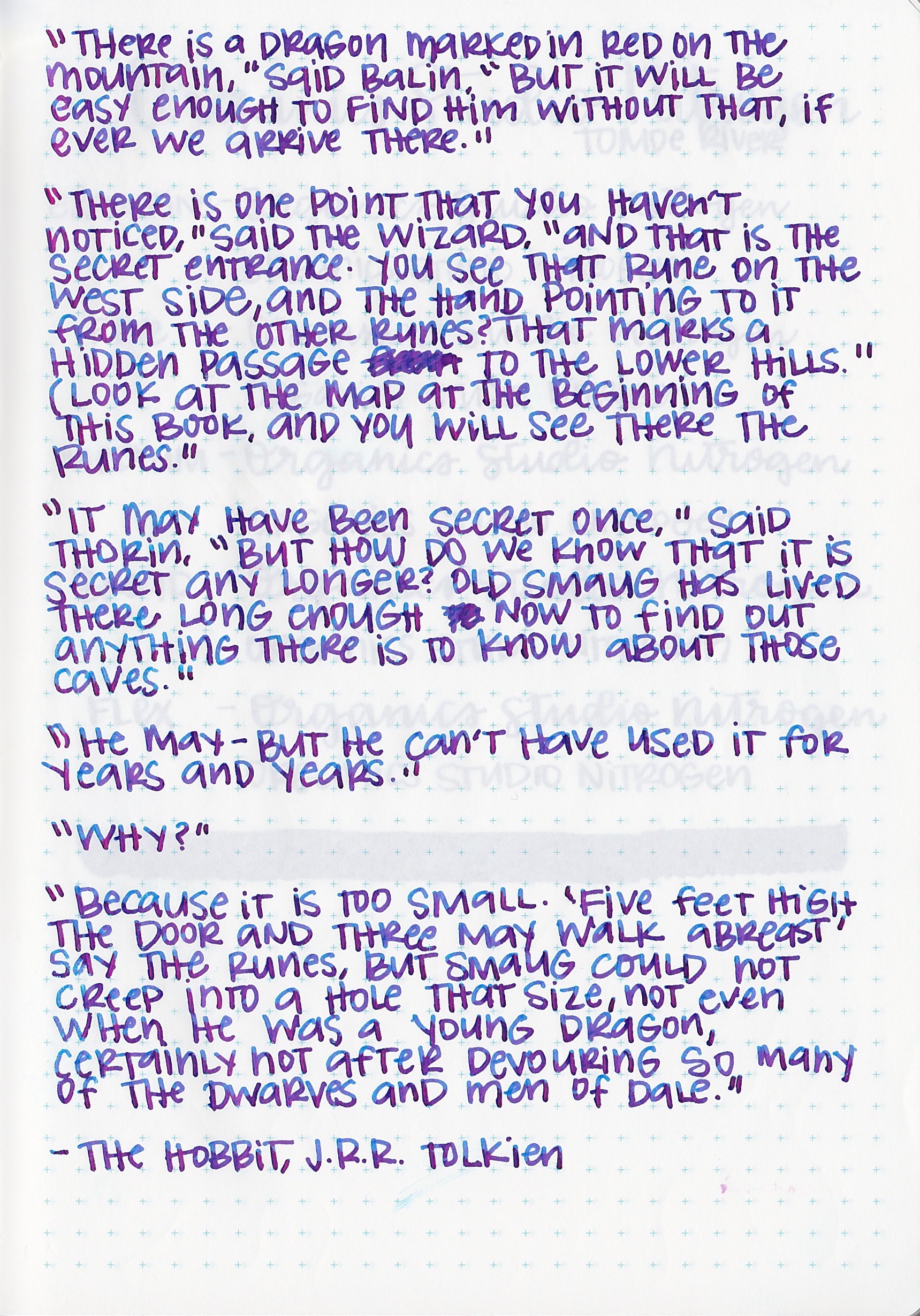 I used a broad nib on Tomoe River paper, and man do I love that sheen. I did have a few hard starts when I moved the pen to start a new paragraph, which was unusual.
Here's a closer look at that amazing sheen. I'm in love with this ink. The sheen is gorgeous, and while the ink does take a long time to dry, I think the crazy sheen is worth a few more seconds of dry time. I'm glad I have a full bottle of this one, because I know it's one I will be using a lot.
Disclaimer: I purchased this ink myself, and all photos and opinions are my own. There are no affiliate links on this page.