Robert Oster Black Violet is the Robert Oster ink that debuted at the 2017 DC Pen Show. The bottle is 50 ml of ink-I purchased my bottle from Vanness Pens. Side note about Robert Oster inks: while Robert Oster debuts an ink at a pen show, the ink is not usually exclusive to the show. I hate not being able to get an ink because I couldn't attend the show, and I love that I can still get Robert Oster inks after the show has come and gone. Gold star for Robert Oster.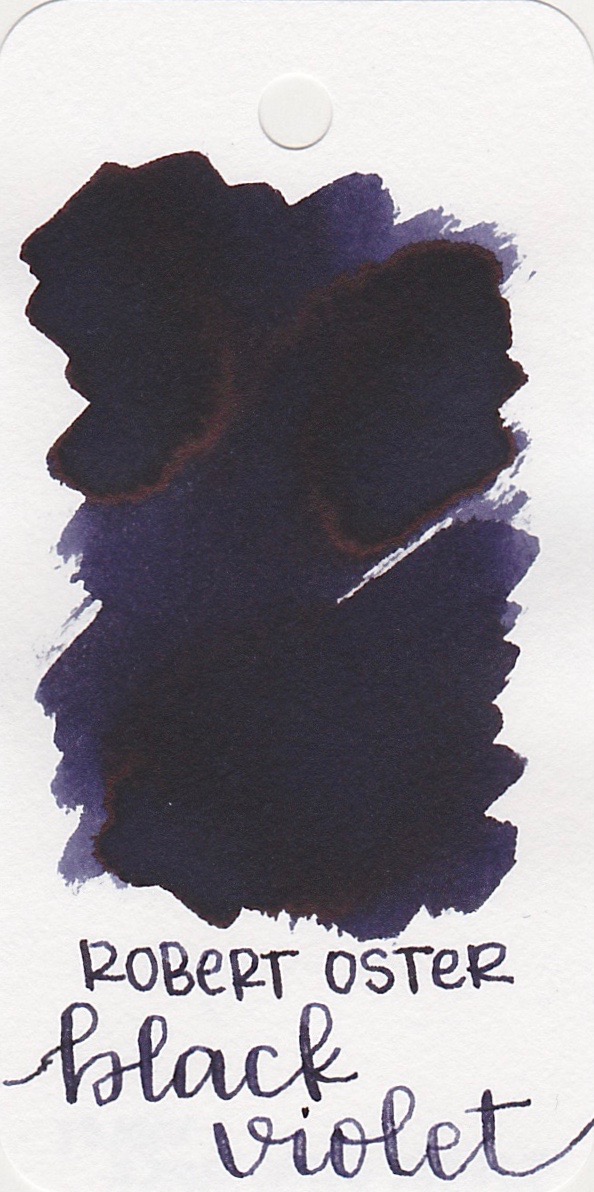 Black Violet is a really really dark violet purple, almost black, so the name is a great fit. Seasonally, I would probably use this ink in the fall.
The color is pretty unique, you don't see a lot of inks this color. I do think this ink would be office appropriate.
The sheen on these ink drops is swoon worthy. I hate that the sheen doesn't show in writing, because it looks amazing.
Dry time: Black Violet dried in about 32 seconds (on Rhodia paper in a medium nib).
Water Resistance: This ink is not water resistant.
Feathering: Black Violet only feathered on Baron Fig paper, but did great on the other papers.
Show through: Black Violet had medium show through on all of the papers.
Bleeding: Black Violet only bled on Baron Fig paper, but did great on the other papers.
Other properties: Black Violet had medium-low shading and a tiny bit of reddish sheen. I wish there was just a bit more shading, and that the sheen would show up in writing. It has a little bit less shading than most Robert Oster inks do.
Ink swabs for comparison, left to right (or top to bottom for RSS): Diamine Onyx Black, Robert Oster Black Violet, and Diamine Eclipse. Onyx Black has a purple undertone, but it is more black than Black Violet is. To see all of the Robert Oster ink swabs together, click here.
I used a broad nib on Tomoe River paper. The ink felt pretty wet while I was writing, and I didn't have any flow issues.
Overall, I think this ink is unique, and well behaved. I think it's office appropriate and a great ink for fall as well. Robert Oster does it again.
Disclaimer: I purchased this ink myself, and all photos and opinions are my own. There are no affiliate links in this post.