Today's ink is Elegant Teal, made by Krishna. Krishna inks are made in small batches in India. I got my bottle of ink from The Pen World. The bottle is 20 ml of ink.
One thing that drives me a little crazy is that the labels are no where near the actual ink color. If I looked at the label I would assume the ink was pink. Since the ink is green, I think the label should be green or white, but maybe that's just me.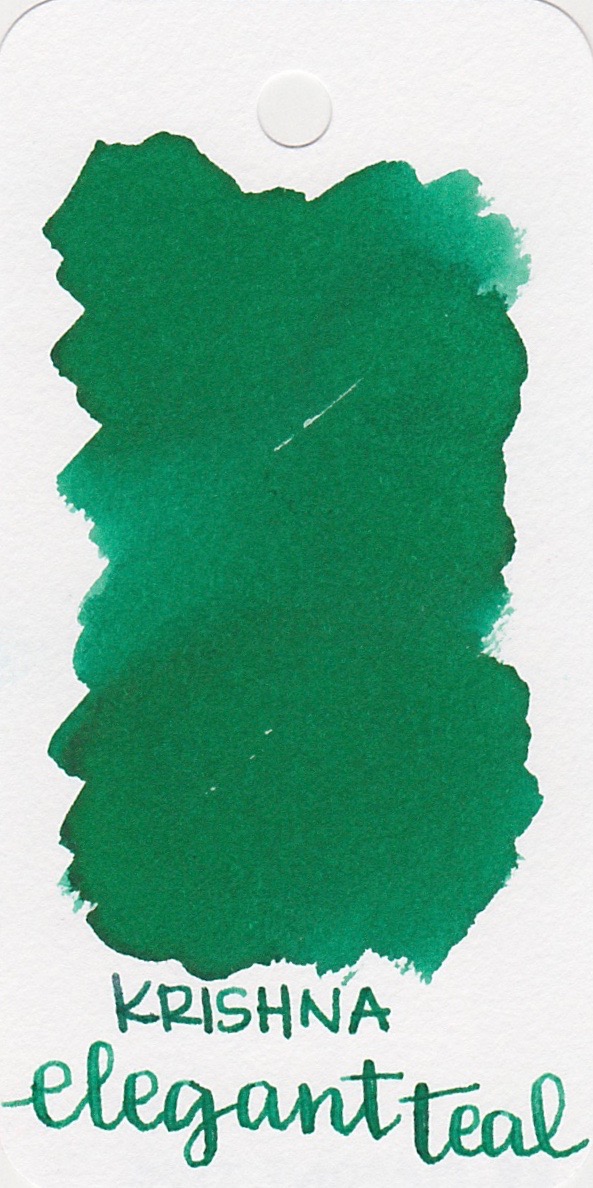 The ink is called Elegant Teal, but it really doesn't look teal to me. It looks like a medium green.
When concentrated, the ink almost looks black.
The ink swab and drops took five and a half days to dry, and they still were a little bit wet.
Dry time: On Rhodia paper, in a medium nib, Elegant Teal took 45 seconds to dry.
You will see throughout the pages that I had a bit of railroading with the flex nib.
Feathering: Elegant Teal only feathered on Baron Fig paper.
Show through: Elegant Teal had medium show through on all of the papers.
Bleeding: Elegant Teal only bled on Baron Fig paper.
Swabs for comparison, left to right: Robert Oster River of Fire, Krishna Elegant Teal, and Robert Oster Deep Sea. I chose River of Fire and Deep Sea, because they are two of my current favorite inks, but also because River of Fire is Green and Deep Sea is teal. To me, Elegant Teal looks more green than teal, so I feel like the name of the ink a bit misleading. To see all of the Krishna inks together, click here.
Left to right: Diamine Woodland Green, Krishna Palm Leaf, and Diamine Ultra Green. To see swabs and links to all of the green inks I have reviewed so far, click here. Krishna Palm Leaf and Elegant Teal are actually closer than I thought they would be, Palm Leaf is just a bit darker.
I used a broad nib on Tomoe River paper. The ink seemed a bit dry in long writing.
Overall, the bleeding, feathering, and show through were about average, but the dry time was pretty long. I'm not crazy about this ink, because I think there are better greens out there that dry faster.
Disclaimer: I received this ink free of charge from The Pen World, in exchange for an honest review. There are no affiliate links on this page.