I have a serious love for teal, so I was excited to try out today's ink: Krishna Peacock. Krishna inks are made in small batches in India. I got my bottle from The Pen World. The bottle holds 20 ml of ink.
Peacock is a really pretty light teal.
When I did my swab and drop tests, my heart broke a little bit. The ink splattered a lot more than most inks do, which isn't a big deal, but the ink seemed to sink down into the Tomoe River paper in large swabs, and as it dried it got a LOT lighter.
This is the first time I have ever seen ink drops feather on Tomoe River paper.
Dry time: On Rhodia paper, in a medium nib, Peacock dried in 30 seconds.
Water Resistance: Peacock had medium water resistance. The ink looked smudged, but the writing would still be legible.
Feathering: Peacock feathered in large swabs, ink drops, on Rhodia, and on Baron Fig paper.
Show through: Peacock had medium show through on all of the papers.
Bleeding: Peacock only bled on Baron Fig paper, but did well on the other papers.
Ink swabs for comparison, left to right (or top to bottom for RSS): Kaweco Paradise Blue, Krishna Peacock, and Diamine Marine. I think either ink would work for similar inks. To see swabs and links to all of the Krishna inks I have reviewed so far, click here.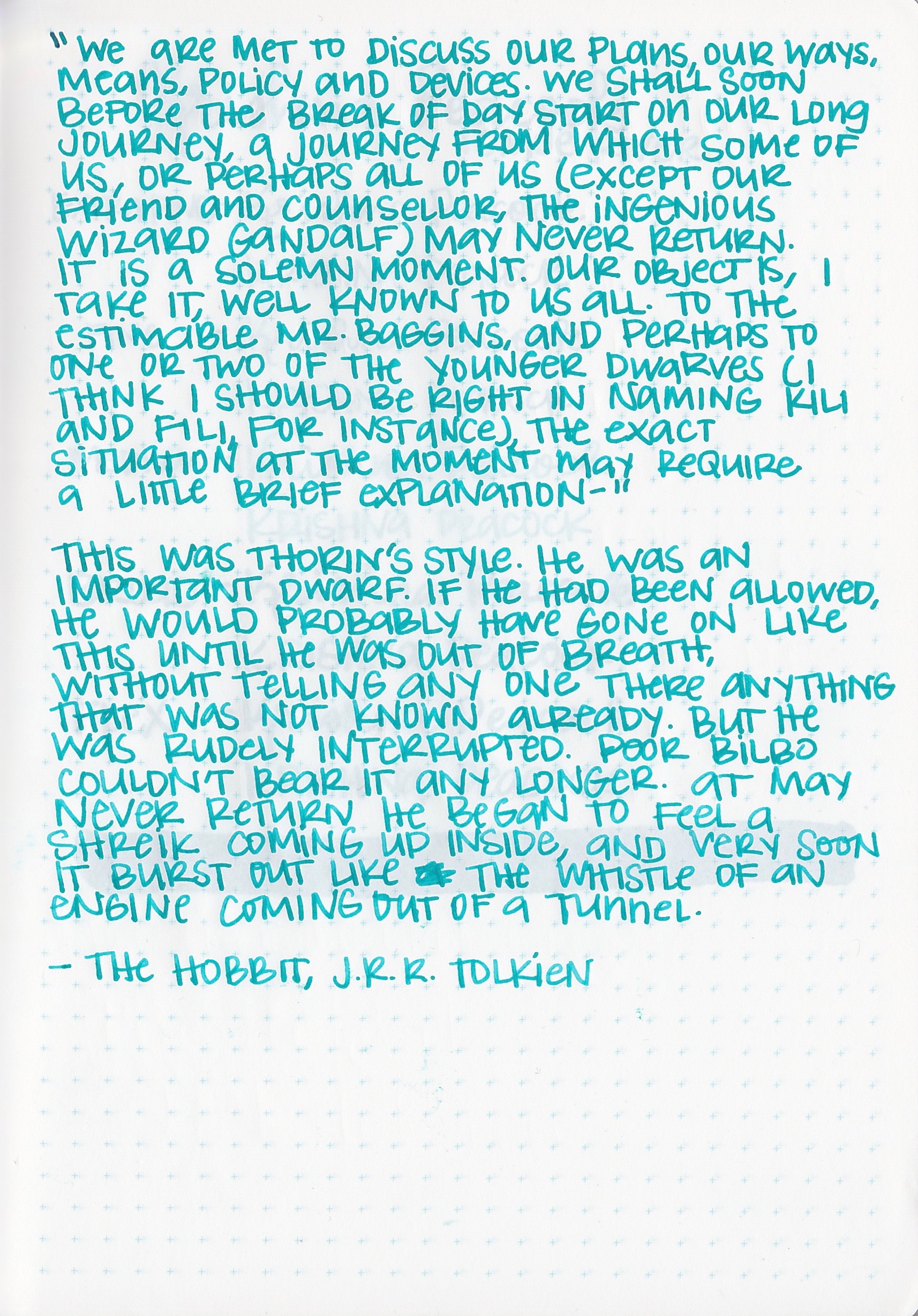 I used a medium nib on Tomoe River paper. It behaved pretty well in this nib/paper combo.
Overall, I love the color, but hate how it behaved in the large swab and ink drops. It has a long dry time, feathering, and lightens too much as it dries. I think this ink has potential, but it needs some tweaks to the formula. I would probably use Kaweco Paradise Blue if I wanted an ink close to this color.
Disclaimer: I received this ink free of charge from The Pen World, in exchange for an honest review. There are no affiliate links on this page.