Today's featured ink is Diamine Jade Green, which is a bright summery green. I bought this bottle from Cult Pens.
The bottle is 30ml of ink. It's a great size to really get to know an ink-it's much bigger than a 2-4ml sample, but not as big as an 80ml full bottle. I dislike the top of the bottles, however. You get a bunch of these bottles in a drawer, and you spend forever looking for the right one. I went through and put a (3-hole punch) reinforcer on the top of the bottle, then put a little bit of ink on it-it's so much easier to find the right bottle that way. The opening at the top of the bottle is just big enough to put in a fountain pen for filling, but sometimes it's a tight fit.
Jade Green is a bright green, with some shading. Seasonally, this is a summer green.
When you apply this ink heavily, it almost looks black on the edges.
I've had a lot of fun playing with ink drops lately. These show how much shading you can get out of Jade Green.
Feathering: Jade Green only feathered a little bit on the Baron Fig paper, but did great on the other papers.
Bleeding: Jade Green had no bleeding.
Show through: Jade Green had low show through across all of the papers.
Shading: Jade Green had low to medium shading on all of the papers. There is no sheen with this ink.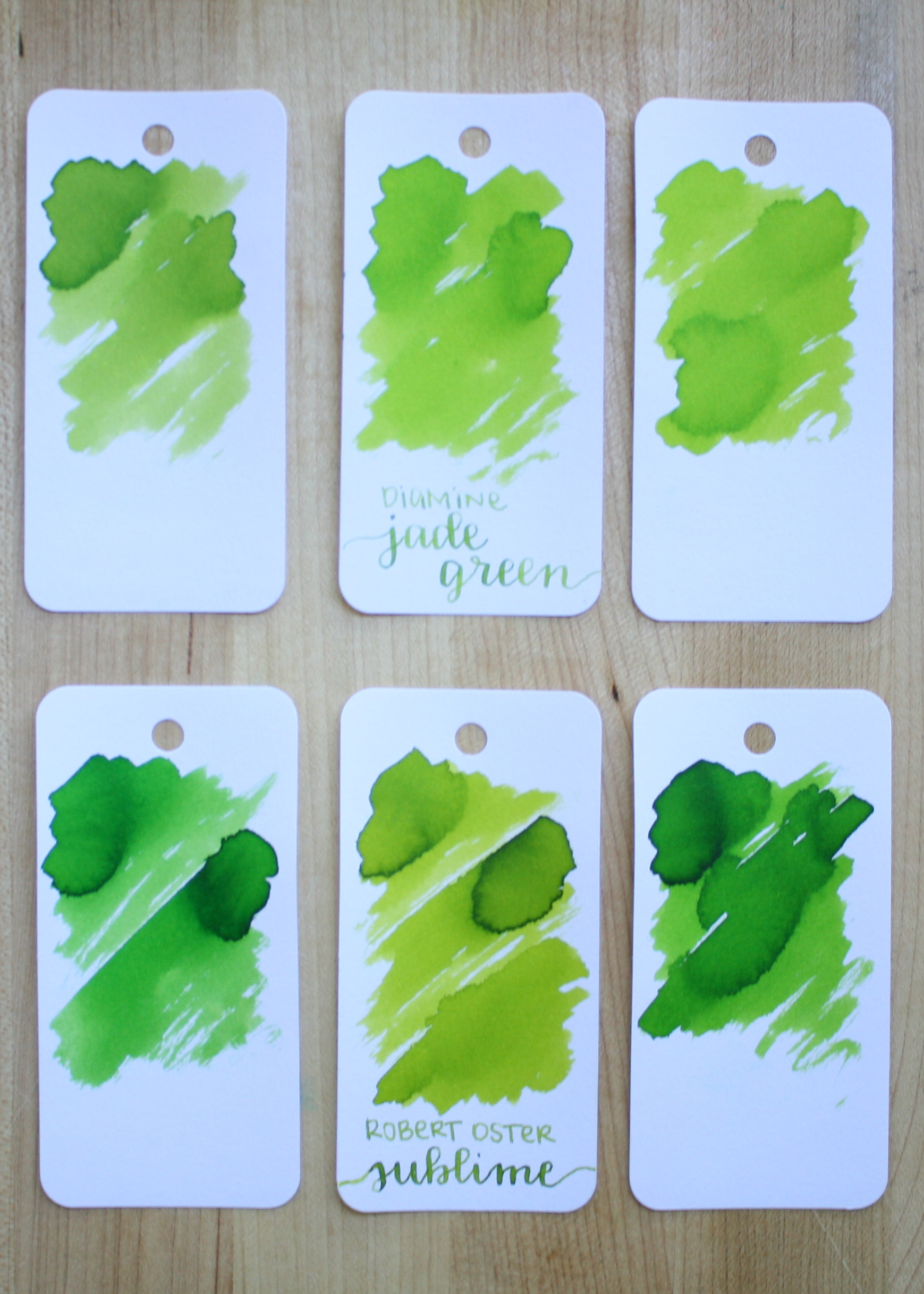 Top row: left to right, Diamine Spring Green, Diamine Jade Green, and J. Herbin Vert Pre. Bottom row: Robert Oster Green Lime, Robert Oster Sublime, and Diamine Kelly Green.
J. Herbin Vert Pre is the closest ink to Jade Green. They are very similar in tone and saturation.
Overall, I have mixed feelings about this ink. It performed consistently among all of the papers, which is awesome. I love that it was consistent, however, sometimes the ink is so light that my eyes were straining to read it. This is not an ink I would ever use to write a whole page, but I would use it to highlight something or write in key words. I liked this ink the most in the flex nib, because it puts the ink down wet enough to get the darker shading. I would give this ink 3 stars out of five. I like the formula, but I think the ink overall is too light for common use.
Disclaimer: I purchased this ink myself, and all opinions and photos are my own.