On April 27, 2017, I saw on Instagram that Sailor was re-releasing their six original Sailor Jentle inks. The six inks are Peche, Grenade, Apricot, Epinard, Sky High, and Ultramarine. I got so excited, since they are inks I have always wanted to try, but could never find. This is a quick view of the six swabs.
Today we are going to cover Peche. I ended up buying mine from Anderson Pens, because they are the ones who had it first, and I was worried about getting a bottle before it sold out (it ended up selling out in less than 24 hours I think). I prefer this box over some of Sailor Jentle's other boxes, because this one actually has the name in English, which is helpful for me.
I hate this bottle. I hate this bottle. I hate this bottle. It's short, it's wide, it has this little plastic thingy in it that is supposed to make it easier to fill a pen with ink, but it actually makes it even harder. Honestly, I took the plastic thing out and am having better luck filling pens without it, but even without it, the bottle shape is not conducive to filling a fountain pen. Make the bottles taller and narrower, please.
This ink is a very light pink, almost baby pink. When you pool the ink and let it dry, it almost looks gold around the edges. Seasonally, I think this would be a spring ink.
This is Peche on a Rhodia Webnotebook. There is little show through, no bleeding, and no feathering. There is a little bit of shading, but not much.
This is Peche on Tomoe River Paper (Nanami Crossfield notebook). There is a little more shading, and a medium amount of show through. There is no bleeding and no feathering.
This is Peche on Leuchtturm 1917 paper. There is a medium amount of show through, no bleeding and no feathering. There is a tiny bit of shading.
This is Peche on a Baron Fig Askew notebook. I tried out the Baron Fig Confidant, and it was not at all fountain pen friendly. I didn't have high hopes for the Askew with my fountain pens, but I thought I would give it a shot anyway, since I love the concept of the crazy lines. I'm super impressed. The Peche had very little show through, and a medium amount on the swab at the bottom.
When I fill my fountain pens, I swipe off the extra ink on a paper towel, and sometimes it ends up looking cool. The edges of the ink show that little bit of yellow, that looks slightly gold on paper.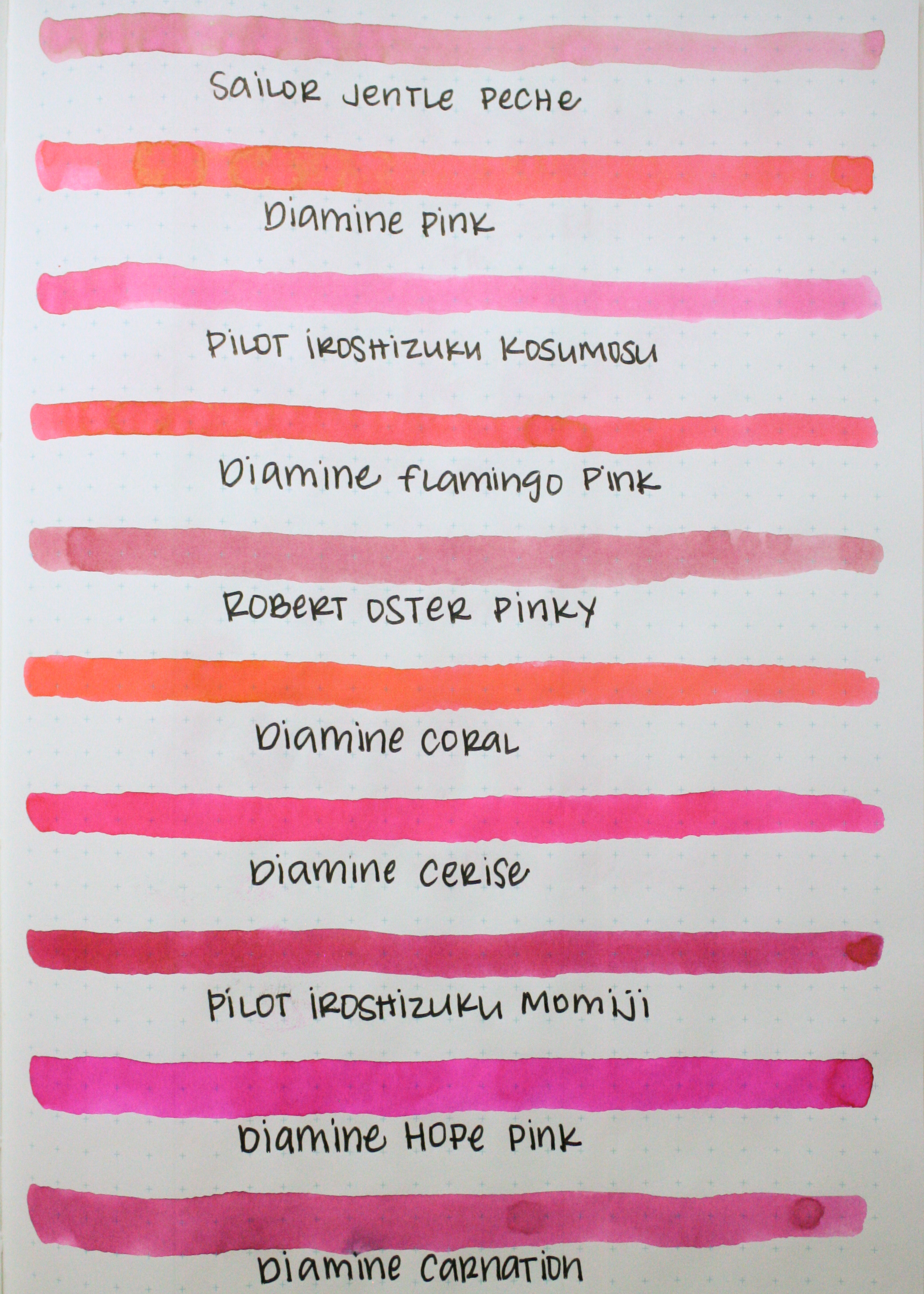 Robert Oster Pinky is the closest, but it is a touch darker than Peche. Diamine Carnation is a similar tone, but it is a few shades darker.
So this quote was done on Tomoe River paper, with a Lamy Al-Star medium nib, a Noodler's Ahab flex nib, and a water brush (I don't know what brand). It shows all of the possible shading, but some of it is too light for my taste. You can see that little bit of gold in some places.
Overall I love the smoothness and lubrication of the ink, but I do think it is too light for most uses. I'm looking forward to trying out the other five Sailor Jentle inks in the collection.
Disclaimer: I bought this ink myself and all opinions are my own. Below is a link to Amazon where you can find the Rhodia notebook I use. They don't carry this ink.