Robert Oster Khakhi is the color I think of when I think of any tv character going on african safari. I swear, Donald duck is always dressed in this color when he goes to Africa. I purchased my bottle of ink at Goulet Pens. The bottle is 50 ml of ink.
Khakhi is a medium brown with a green undertone and a tiny bit of black sheen.
The ink drops show off the medium shading and black sheen.
Dry time: Khakhi dried in 30 seconds (medium nib on Rhodia paper).
Water resistance: Khakhi is not water resistant.
Feathering: Khakhi only feathered on Baron Fig papers, but did great on the other papers.
Show through: Khakhi had medium show through on all of the papers.
Bleeding: Khakhi bled on Baron Fig paper, but did great on the other papers.
Other properties: Khakhi had a tiny bit of sheen (only in large swabs) and medium shading.
Ink swabs for comparison, left to right (or top to bottom if you are using a feed reader): Robert Oster Marrone Mustard, Robert Oster Khakhi, and Robert Oster Melon Tea. To see all of the Robert Oster inks together, click here.
Robert Oster Gold Antiqua, Pilot Iroshizuku Ina-Ho, and Robert Oster Caffe Crema. To see all of the brown inks together, click here.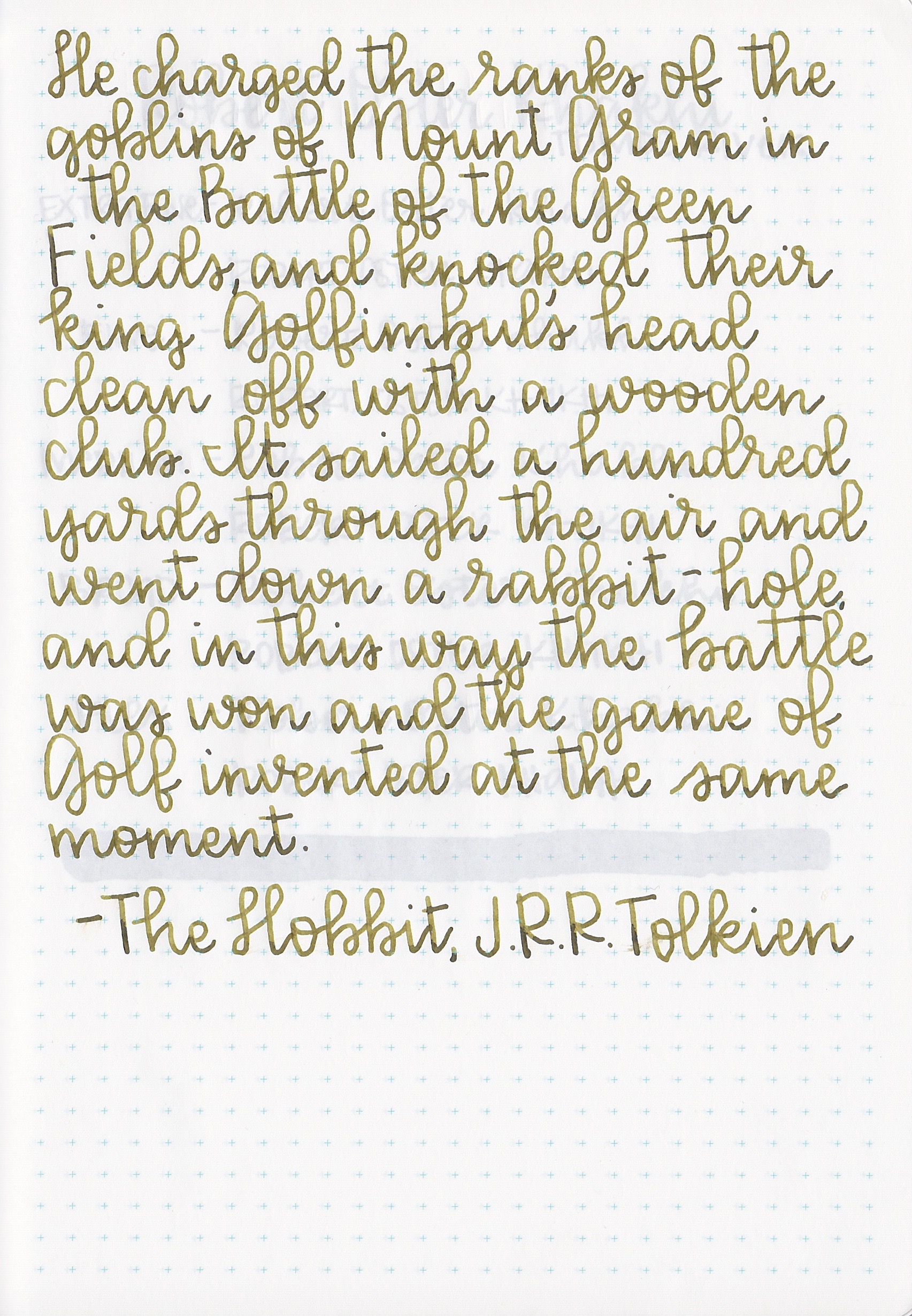 I used a broad nib on Tomoe River paper.
Overall, this ink is well-behaved, like all of Robert Oster's other inks I have tried so far. This is the first ink, however, that I haven't loved the color, and wished I only had a sample instead of a bottle. I'm just not crazy about this one, which surprises me because I have loved almost all of Robert Oster's inks so far.
Disclaimer: I purchased this ink myself, and all opinions and photos are my own. There are no affiliate links on this page.