Papier Plume released five inks in 2016, each ink based on a color found in New Orleans, and called the New Orleans collection. Each bottle is about 30 ml of ink, and created in small batches in the US. Garden District Azalea was based on the Azaleas that grow in the Garden District of New Orleans in the spring. I purchased my bottle of ink from Papier Plume. Garden District Azalea is a long name, so I'm just going to call it GDA for the purpose of this review.
Above is a picture of swabs from the Papier Plume New Orleans Collection.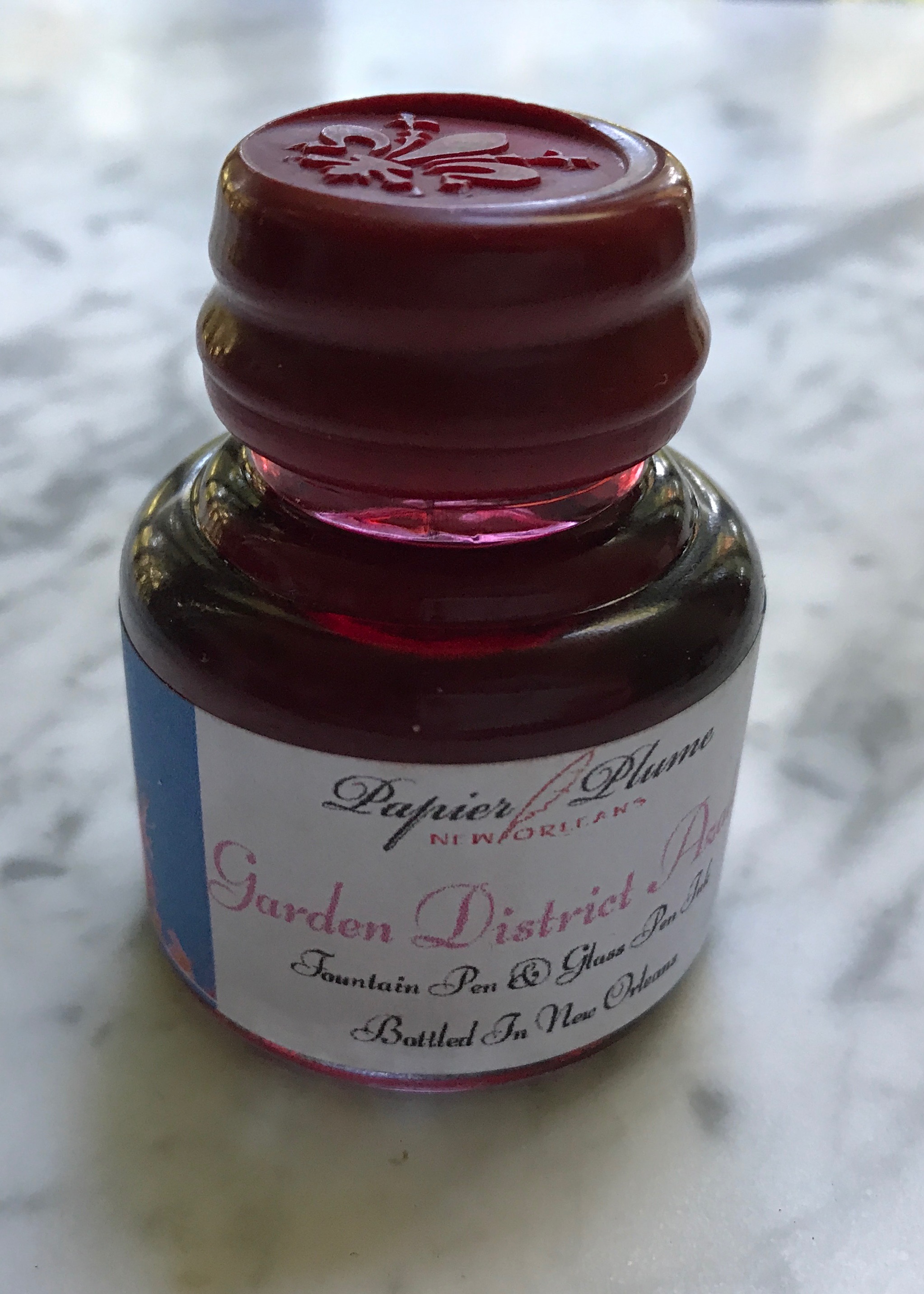 The bottle is glass, with a metal lid, and holds about 30 ml of ink. The lid has a wax seal on top.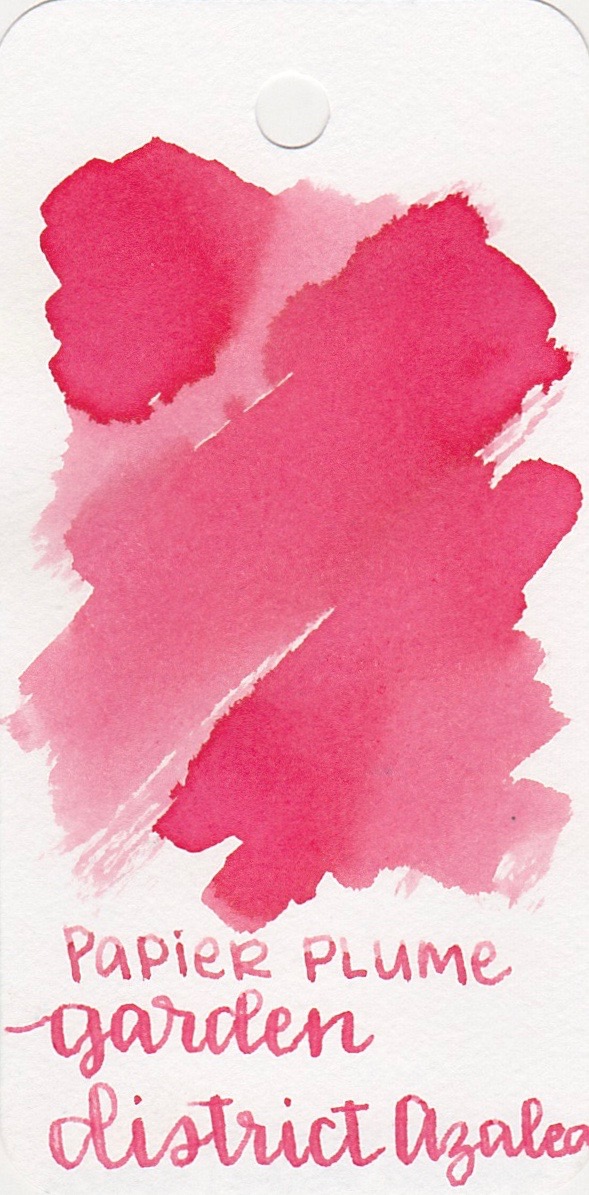 GDA is a light pink with a little bit of shading. Seasonally, I would use this ink in the spring.
Feathering: GDA only feathered on Baron Fig paper.
Ghosting (show through): GDA had low to medium ghosting on all of the papers.
Shading: GDA had low shading on Tomoe River paper, and very low shading on the other papers. GDA had no sheen.
Bleeding: GDA only bled on Baron Fig paper. Because of the bleeding, feathering, and washed out-appearance on Baron Fig paper, I would not recommend using GDA on Baron Fig paper.
Inks for comparison, left to right: Pilot Iroshizuku Kosumosu, Papier Plume Garden District Azalea, and Robert Oster Pinky. I think the closest ink to GDA is Pinky. To see swabs and links to all of my Papier Plume reviews, click here.
Left to right: Diamine Flowers Carnation, Sailor Jentle Peche, and Pilot Iroshizuku Momiji. None of these three inks are a good match for GDA, but since they are popular inks, they are good for comparison. To see swabs and links of all of the pinks I have reviewed so far, click here.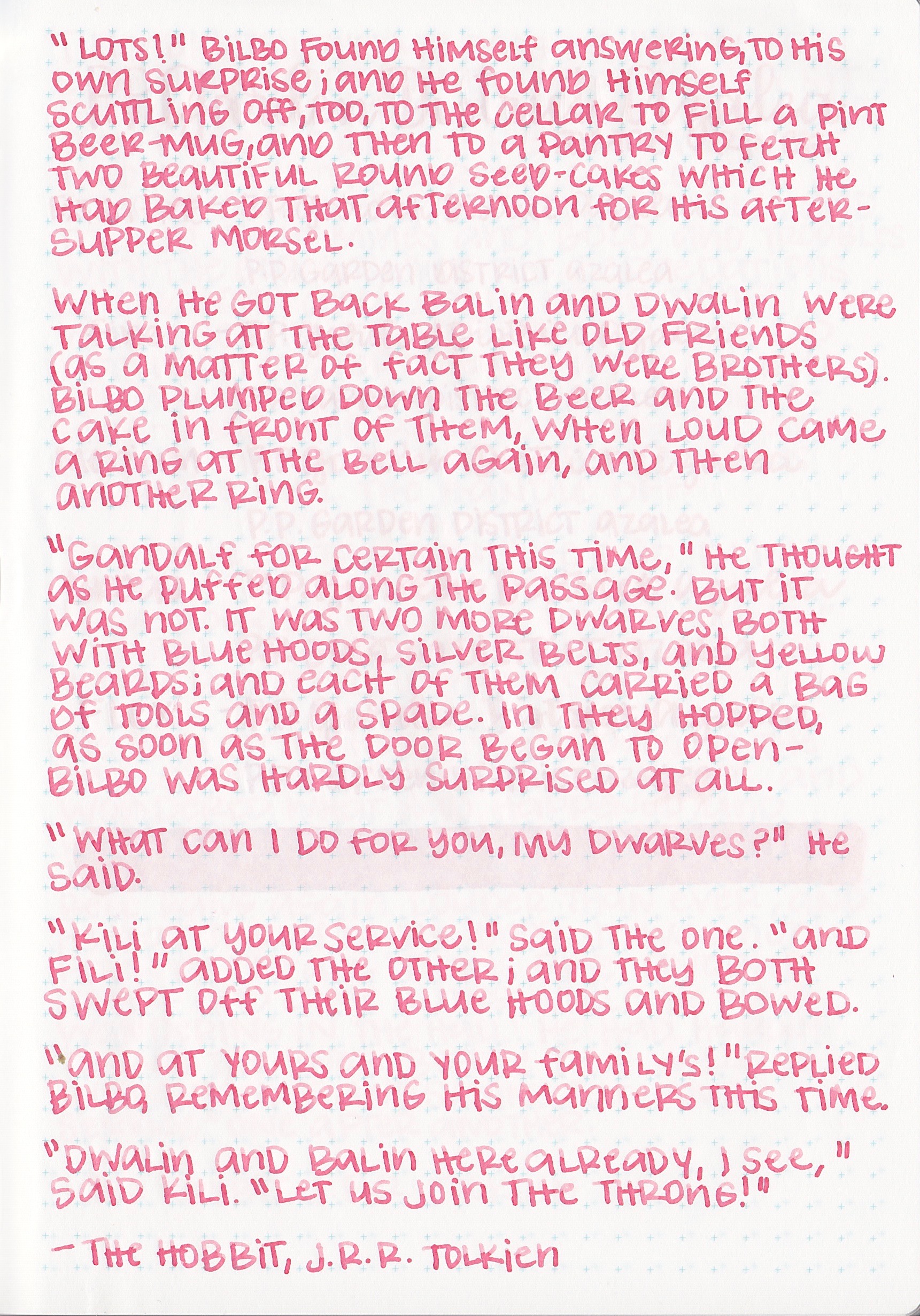 I enjoyed GDA in a medium nib on Tomoe River paper. It had an average to slightly dry flow.
Let's talk about price for a minute. A bottle of GDA is 8.00 for 30 ml, making it 27 cents per ml. Robert Oster Pinky is a similar ink, that costs 34 cents per ml, as is Pilot Iroshizuku Kosumosu, which costs 40 cents per ml. Cost wise, GDA is a good choice for a cost effective pink ink.
Overall, I think GDA is a good spring pink with a little bit of shading on Tomoe River paper. The ink is just a tiny bit dry.
Disclaimer: I purchased this ink myself, and all photos and opinions are my own. There are no affiliate links on this page.
Update: Here is Pilot Iroshizuku Tsutsuji on the left and GDA on the right. Tustsuji is a lot darker and looks more magenta than straight pink.