This week I'm focusing on summer inks, so today I am reviewing Diamine Cool Green. I purchased my bottle at Cult Pens. The bottle is 50 ml of ink. I talked about the bottle in this week's review of Jade Green, which you can find here. My camera is wearing out, so the photos show it as bluer than it is.
Cool Green is a bright green with a pink sheen. Seasonally, I would call it a summer ink.
On Tomoe River, if you lay down the ink really thickly, you get a dark pink sheen.
The sheen shows up well on ink drops.
Feathering: Cool Green had no feathering.
Bleeding: Cool Green had no bleeding, except in two little spots with the flex nib on Tomoe River.
Ghosting (show through): Cool Green had low to medium ghosting on all papers.
Shading: Cool Green had low shading on all papers. A little bit of sheen shows up on Tomoe River, but only on large swabs or ink drops.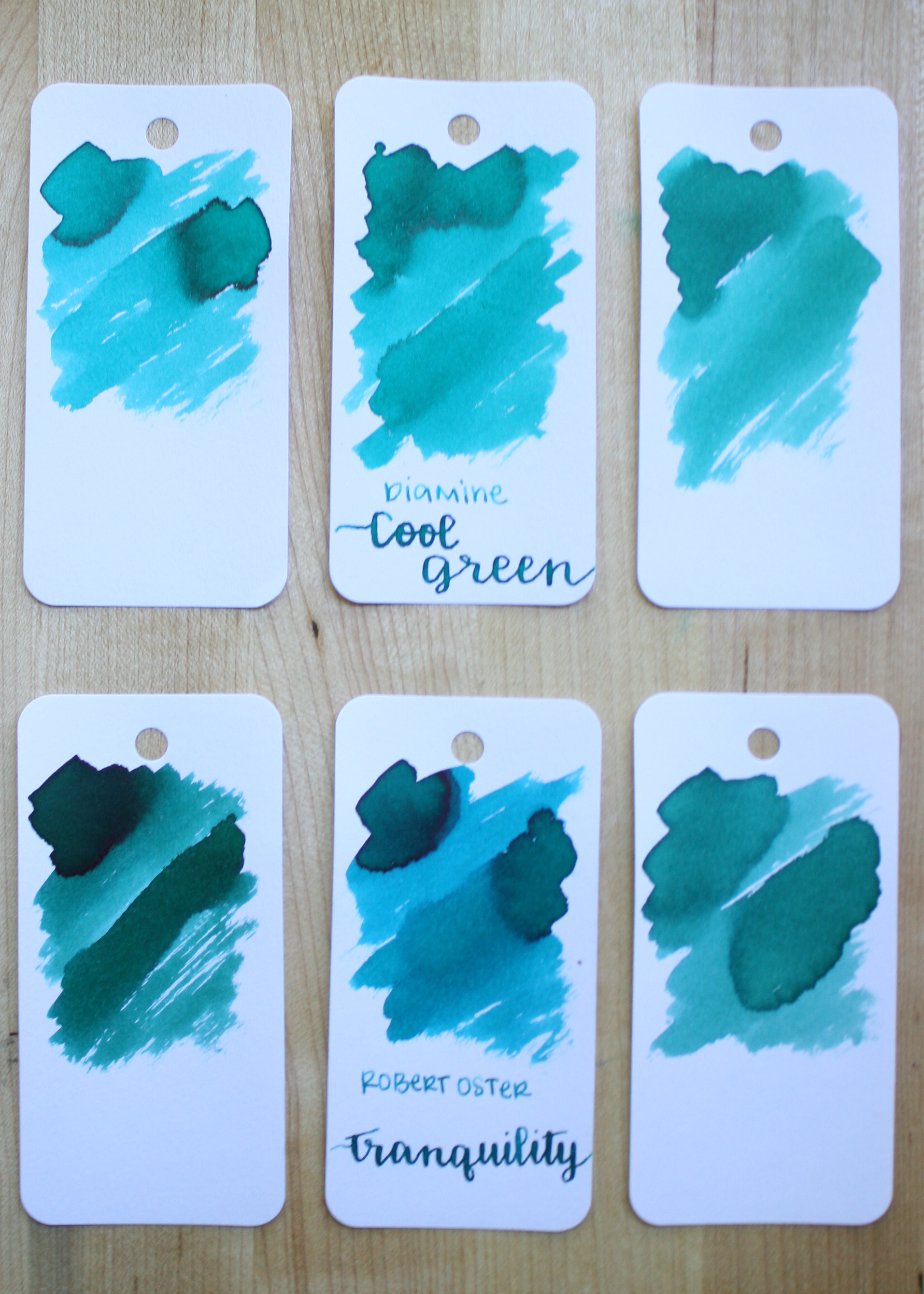 Top row: left to right, Pelikan Edelstein Jade, Diamine Cool Green, and De Atramentis Sandalwood. Bottom row: Robert Oster Peppermint, Robert Oster Tranquility, and De Atramentis Mint Turquoise.
I think Pelikan Edelstein Jade and De Atramentis Sandalwood are the closest.
This ink is just a little bit wetter than average, and flows well. I started writing this in a Noodler's Ahab flex pen, but ran out of ink so I switched to the Lamy Safari broad nib. I really like this ink in the flex nib, because it shows the most shading. The quote is from Wuthering Heights by Emily Bronte (my current homework for my english class).
Overall, I think this is a good summer ink. I love that it performs consistently on different papers, and that it's just slightly wetter than average. I prefer this ink in a flex nib. I would give this ink four stars.
Disclaimer: I purchased this ink myself, and all opinions and photos are my own.