Today is the last day of Robert Oster ink week, so we are going to finish the week with the final ink from the Holiday 4-pack, Red Gold. I purchased my 4-pack from Pen Chalet.
Red Gold is a bright vibrant red with gold shimmer.
There is a ton of shimmer in this ink.
Let's take a look at how the ink behaves on fountain pen friendly papers: Rhodia, Tomoe River, and Leuchtturm.
Dry time: 50 seconds
Water resistance: Low
Feathering: None
Show through: Medium
Bleeding: Low-mostly in the flex nib on Tomoe River paper.
Other properties: Low shading, no sheen, and gold shimmer. Most of the shading is covered up by the shimmer.
On 20 pound copy paper there was a little bit of feathering but other than that the ink behaved well.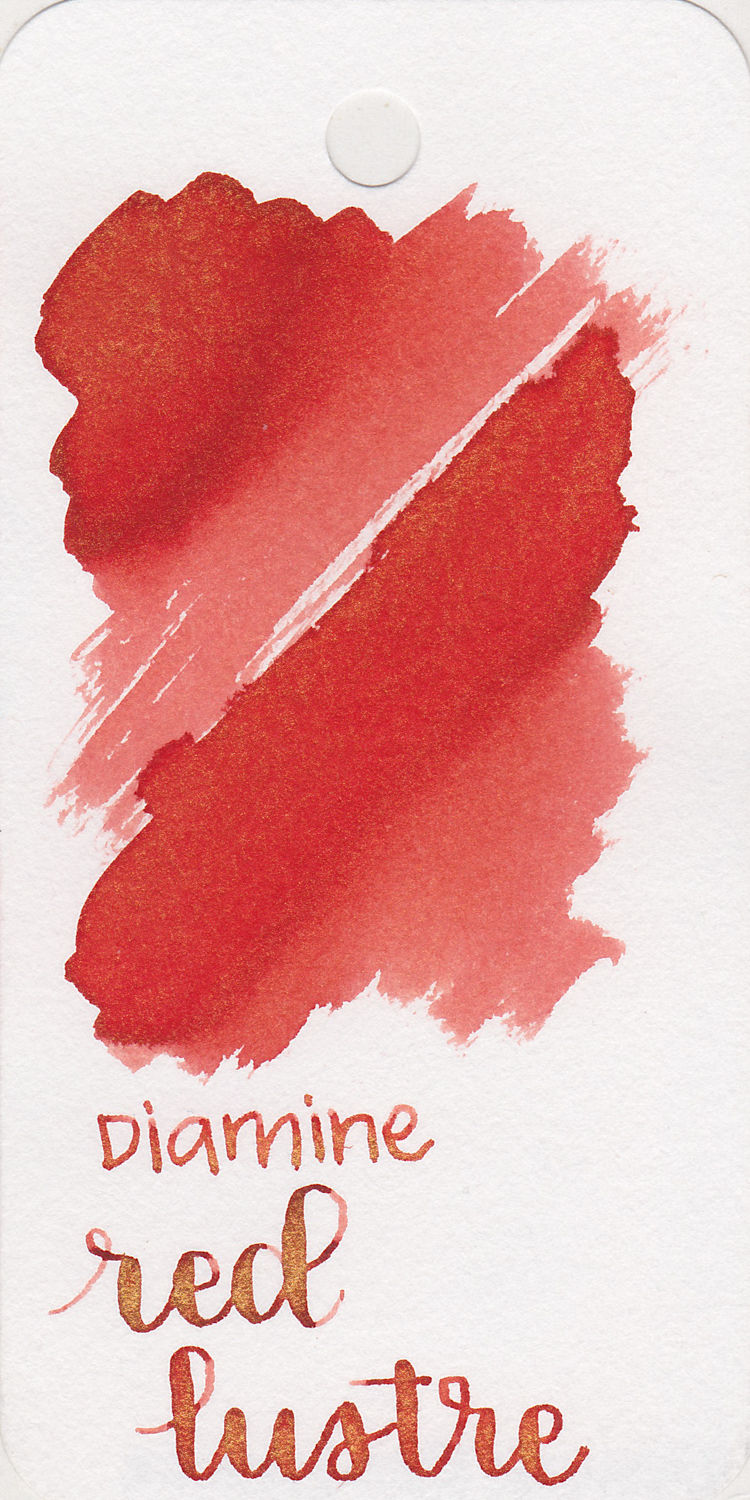 Ink swabs for comparison, left to right (top to bottom for mobile RSS): Diamine Red Lustre, Robert Oster Red Gold, and J. Herbin 1670 Rouge Hematite. Click here to see the Robert Oster inks together, the Shake 'N' Shimmy inks are at the bottom of the page. Red Gold is brighter than Red Lustre and has at least ten times the shimmer.
I used a Pelikan M400 White Tortoise fitted with a vintage 400N nib on Tomoe River paper. the ink was a little on the wet side.
The shimmer did clog the flex pen twice, which is not surprising based on how much shimmer this ink has. I just prime the feed a bit and keep writing. When I use shimmer inks I make sure to clean the pen thoroughly.
Overall, the red is a bit garish for me. Red and gold is not my favorite combination; I wasn't crazy about J. Herbin 1670 Rouge Hematite either, which is the same red/gold combo. It fits in well with the Holiday 4-pack, since it uses Christmas colors, but it's just not my cup of tea. If it had red shimmer I think I would like it a lot more. My favorite inks from the Holiday 4-pack are Heart of Gold and Peppermint Candy. I would buy the 4-pack for those two inks alone. Give it a try, you might love it.
Disclaimer: I purchased this ink myself, and all photos and opinions are my own. There are no affiliate links on this page.