Today's ink is Evening Sapphire. I purchased my bottle at Vanness Pens. This is one of the more recent inks from Robert Oster. At the time I purchased it, Vanness Pens was the only pen store in the United States that was carrying it. The bottle is 50 ml of ink.
Evening Sapphire is a beautiful blue with dusty pink sheen and medium shading. Seasonally, I would use this ink in the winter.
The color is a bit unique, I haven't seen many inks this shade.
I did these ink drops, and immediately said, sold. These ink drops are gorgeous. The shading looks great, and that dusky pink sheen is amazing. Tangent: this ink reminds me of the dress I wore to my high school winter formal. My parents were all about self-sufficiency, so they said, you want to go, make your own dress-so I learned how to sew a dress. I ended up making the dress out of satin with silver trim, and I swear, the satin was this exact color. It's a gorgeous blue.
Feathering: Evening Sapphire feathered just a little bit on Baron Fig paper, but did great on the other papers.
Show through: Evening Sapphire had low to medium show through on all of the papers.
Bleeding: Evening Sapphire bled on Baron Fig paper, in all nib sizes, and a tiny bit in the large swab on Tomoe River paper. For average use on most papers, Evening Sapphire does not bleed.
Other properties: Evening Sapphire had medium shading and a tiny bit of dusty pink sheen that only showed up in the large swabs.
Swabs for comparison, left to right (or top to bottom for RSS): Robert Oster Blue Night, Robert Oster Evening Sapphire, and Robert Oster Midnight Sapphire. I think Blue Night is the darkest, then Midnight Sapphire is one shade lighter, then Evening Sapphire is one shade lighter than that. All three of these inks are pretty similar. For swabs and links to all of the Robert Oster ink reviews I have done so far, click here.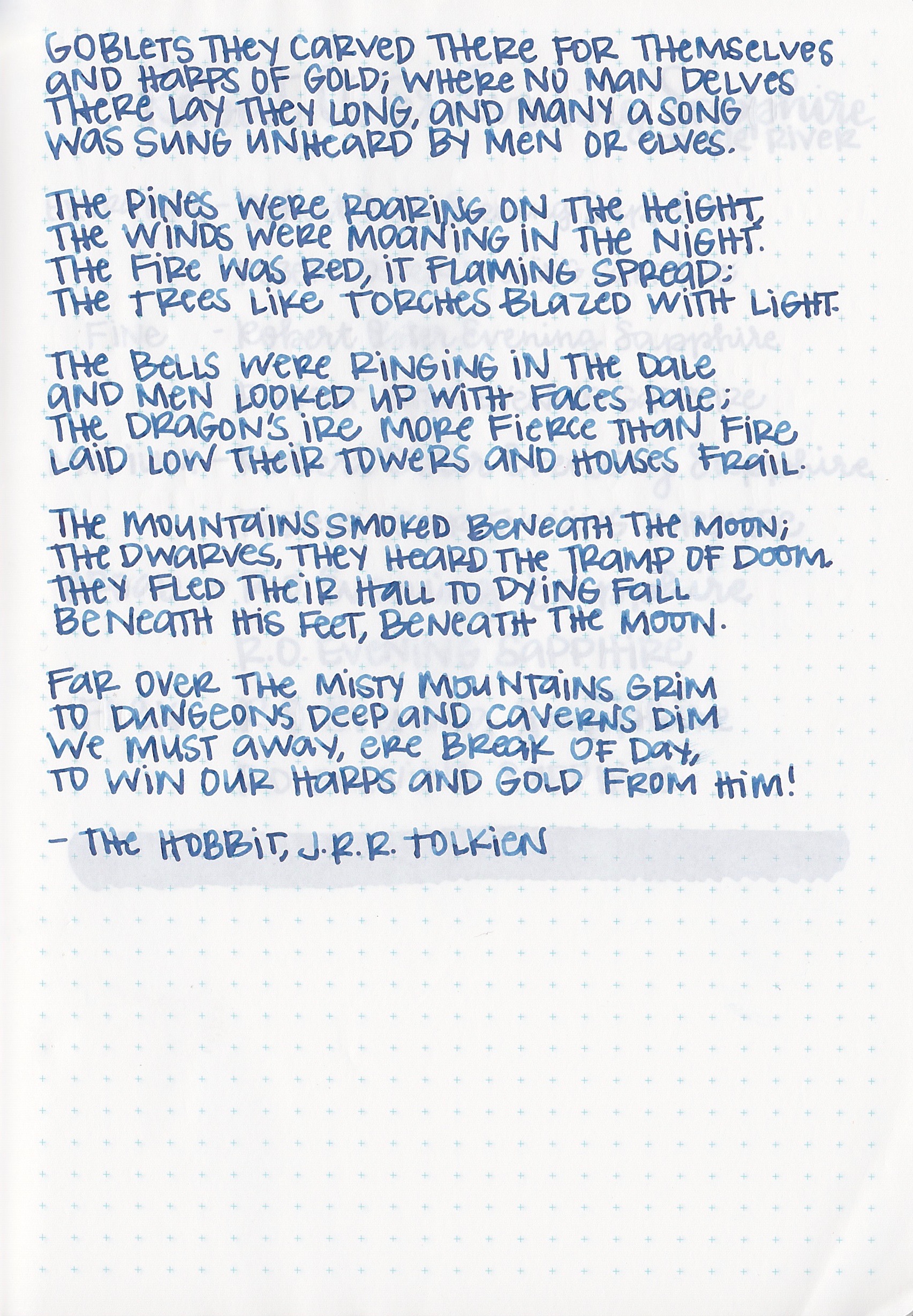 Evening Sapphire was really smooth in a medium nib on Tomoe River paper. It had an average flow and dry time.
Overall, I love this ink. I think the color if fabulous, and the shading is great, although I do wish there was a bit more sheen. I'm in love with this one, give it a try. I've very glad I have a full bottle of this one.
Disclaimer: I purchased this ink myself, and all opinions and photos are my own. There are no affiliate links on this page.