I love teal inks, they are my favorite and I'm in love with the color of Colorverse #15 Gravity Wave. Gravity Wave is part of Season 2, Astrophysics. Pen Chalet sent me a sample for review.
Gravity Wave is a gorgeous medium teal.
In large swabs there is lots of dark pink sheen. The ink drops never completely dried. Even after four days you can still smear the ink.
Writing samples:
Let's take a look at how the ink behaves on fountain pen friendly papers: Rhodia, Tomoe River, and Leuchtturm.
Dry time: 50 seconds
Water resistance: Low
Feathering: None
Show through: Medium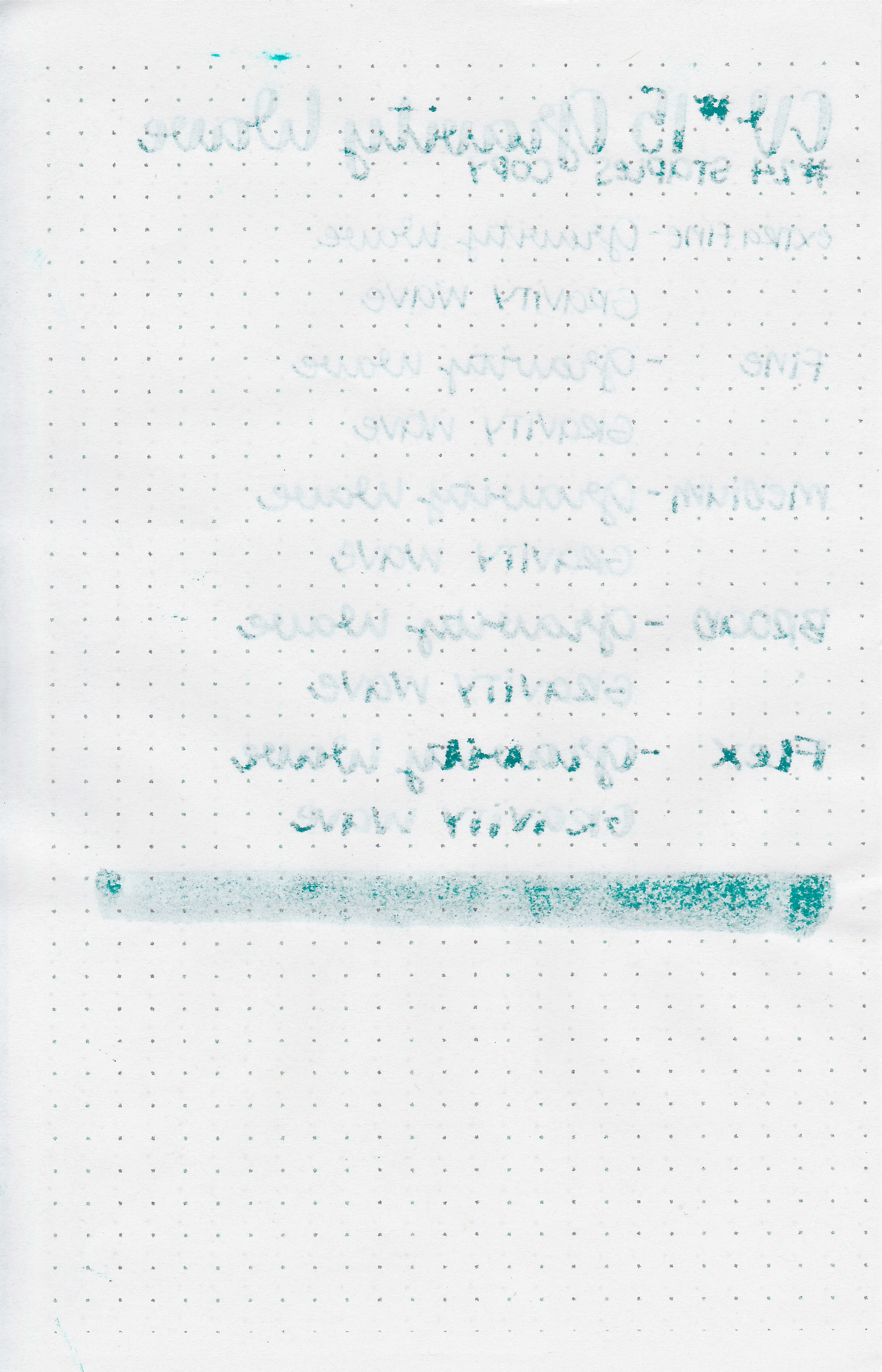 On Staples 24 lb copy paper there was feathering and bleeding in every nib size.
Comparison Swabs:
Ink swabs for comparison, left to right (top to bottom for mobile RSS): Robert Oster Deep Sea, Colorverse Gravity Wave, and Organics Studio Walden. Click here to see the Colorverse inks together. Deep Sea has a bit more blue than Gravity Wave, and Walden has more green. Deep Sea has less sheen than Gravity Wave, and Walden has more.
I used a medium Pelikan M805 Stresemann on Tomoe River paper. The ink had a wet flow.
Overall, I love the color of this ink, and it has plenty of shading and sheen. It has a wetter than average flow, but the dry time is rather long.
Disclaimer: A sample of this ink was provided by Pen Chalet for the purpose of this review. All photos and opinions are my own. This page contains an affiliate link, the proceeds of which go toward the purchase of more ink for review.