I've heard about Troublemaker Inks a lot lately, but unfortunately they aren't currently accepting new orders. I was so excited when Shigure Inks offered to send me their two store exclusive Troublemaker inks-Grape Vine and Blueberry. Let's take a look at Grape Vine today.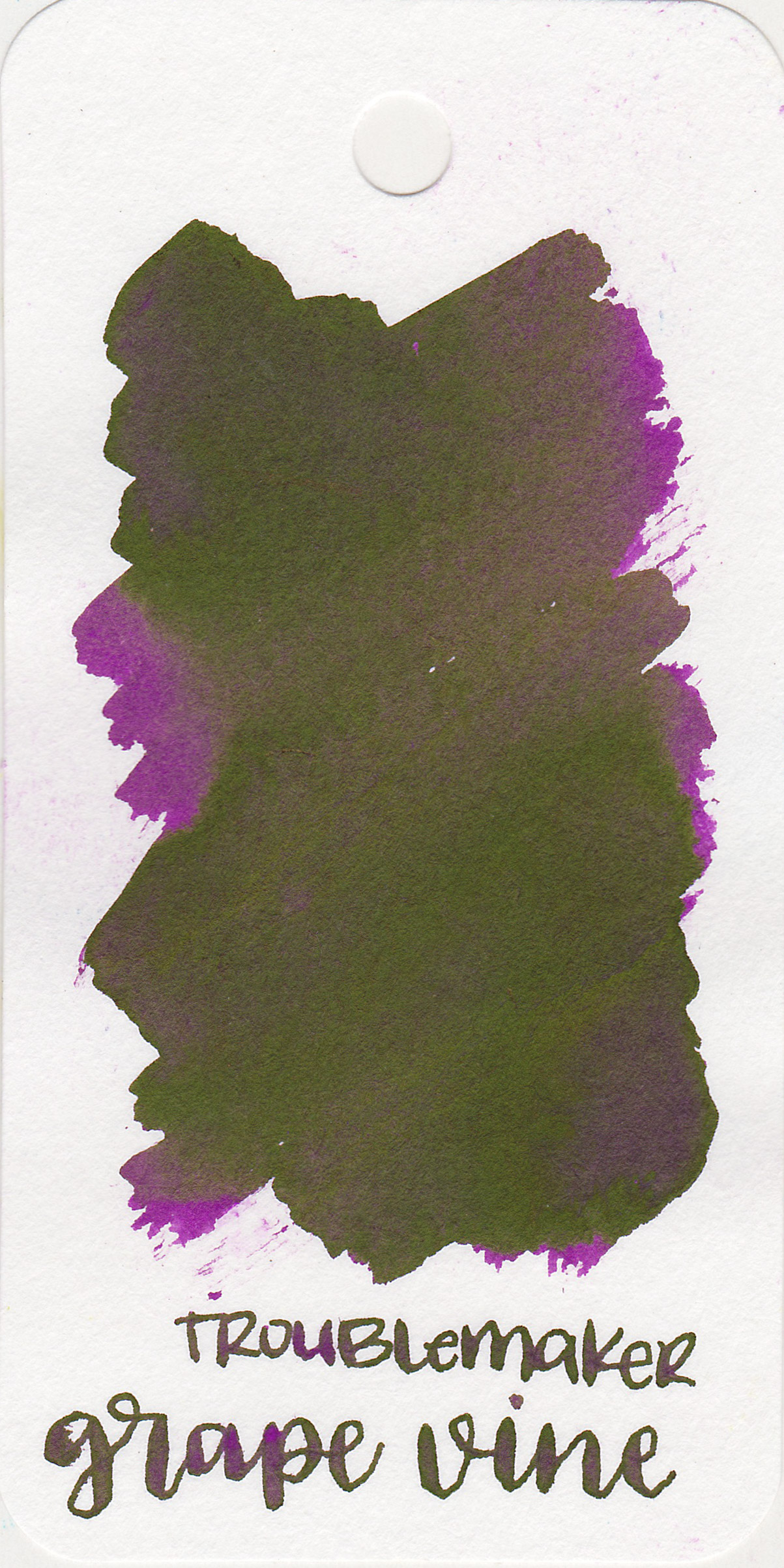 Grape Vine is a medium magenta-purple with lots of green sheen.
In large swabs on Tomoe River paper the ink has a lot of bright green sheen.
Writing samples:
Let's take a look at how the ink behaves on fountain pen friendly papers: Rhodia, Tomoe River, and Leuchtturm.
Dry time: 20 seconds
Water resistance: Low
Feathering: Low-there was some feathering in the flex nib.
Show through: Medium
Bleeding: Low-there was some bleeding in the flex nib.
Other properties: low shading, high sheen, and no shimmer. There might be more shading but if so it's hidden under all that sheen.
On Staples 24 lb copy paper the ink feathered in all nib sizes and had a little bit of bleeding.
Comparison Swabs:
Grape Vine is similar to Colorverse Einstein Ring, but with lots of added green sheen. Click here to see the purple inks together.
Longer Writing:
I used a Pelikan M600 Violet with a fine nib on Tomoe River paper. The ink had an average flow. This ink can be easily smeared on Tomoe River paper.
Overall, It's a lovely color, and dries pretty quickly for how much sheen it has. It can be smeared on TR paper, so it's an ink I would use on other paper.
Disclaimer: This product was provided by Shigure Inks for the purpose of this review. All photos and opinions are my own. This page does not contain affiliate links, and this post is not sponsored in any way.