It's pink week! So far we have made it through four pink inks, and today's is Rohrer and Klingner Vroni. Vroni is from the new line of SketchINKs, which utilize nano pigments. I purchased my sample of ink from Vanness Pens.
Vroni is a medium pink with shading.
In large swabs and ink drops the ink never fully dried. Some inks bleed through to the other side in large swabs, but this ink bled through the page and pooled underneath it, which can be seen at the bottom of the picture below.
Let's take a look at how the ink behaves on fountain pen friendly papers: Rhodia, Tomoe River, and Leuchtturm.
Dry time: 15 seconds-this ink actually dried pretty fast for how wet the flow is.
Water resistance: High-this ink did not budge when wet.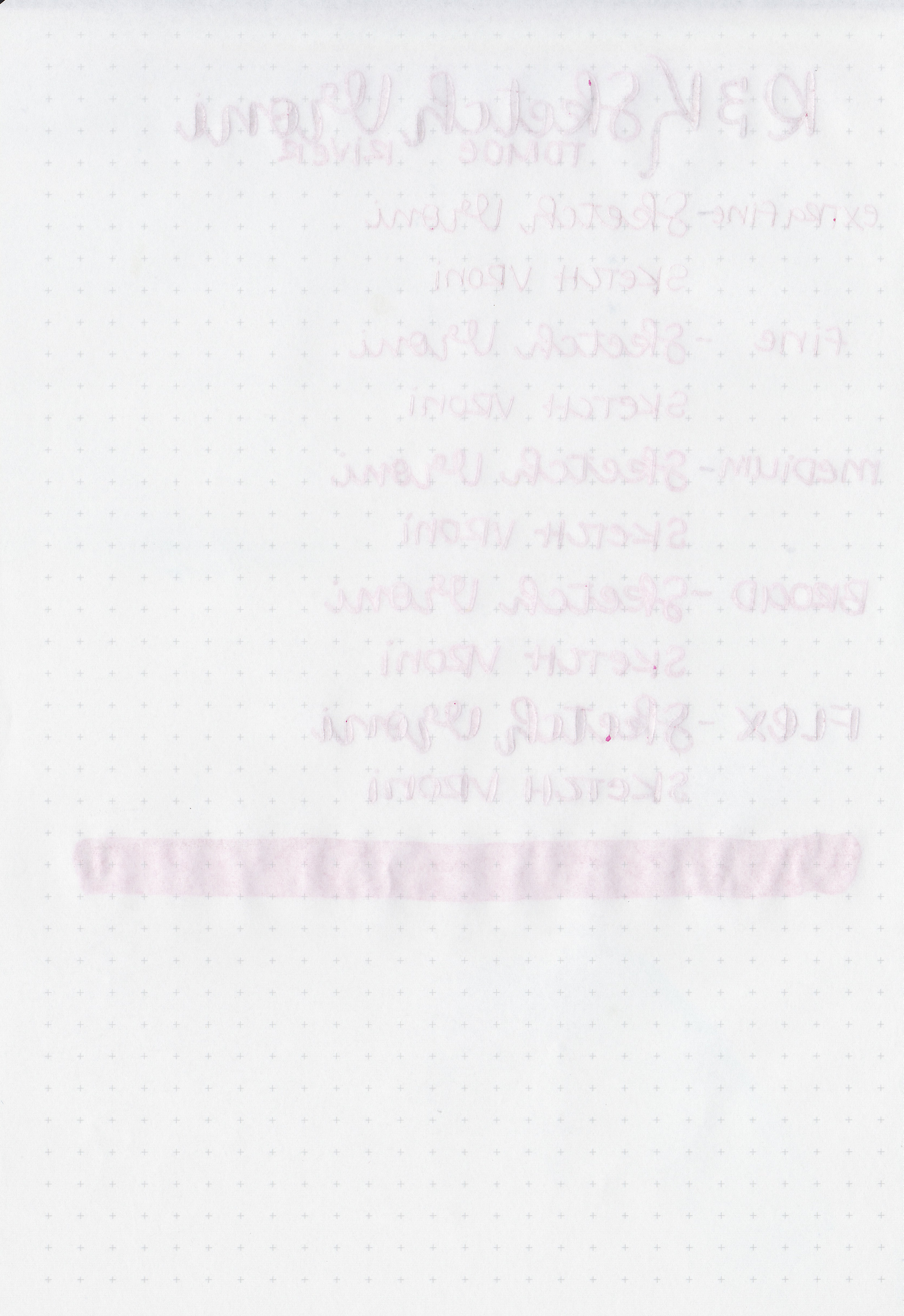 Feathering: None
Show through: Medium
On 20 pound copy paper there was a little bit of feathering but other than that the ink behaved well.
This ink felt like watercolor in a fountain pen, wet, dries to a lighter matte finish, and looks different on each paper. I disliked this ink on Rhodia, it just looked very flat to me. I liked the color best on Tomoe River, but the ink does have a very wet flow; each nib felt about one nib size larger than it was. I was amazed at the water resistance.
Pilot Iroshizuku Yama-Budo, Noodler's Black Swan in Australian Roses, and Diamine Claret. Click here to see the pink inks together.
I used a medium Pelikan M605 White Transparent on Tomoe River paper. The ink had a very wet flow. This medium nib felt like a broad with this ink.
Overall, this was an interesting ink. I liked it best in a medium nib on Tomoe River paper. It's a nice wet ink with water resistance. Give it a try, you might love it.
Disclaimer: I purchased this ink myself and all photos and opinions are my own. There are no affiliate links on this page.