Yesterday I reviewed Robert Oster Sublime, you can find the review here, and I loved playing with the bright color. Today we are going to stay on the bright ink train, and talk about a summer ink, Robert Oster Blue Water Ice. I bought my bottle at Pen Chalet.
I still like the Robert Oster bottles. They are tall and skinny, which makes them great for filling fountain pens (but also makes it easy to tip them over by accident). The bottle is plastic, but I'm okay with that. I really struggle with bottles that don't have a label in the top, because I keep all of my inks in drawers, and I hate having to look at every bottle to find the one I'm looking for. Robert Oster bottles not only have the color name on the top, but they have a tiny swatch which is super helpful. The bottle is 50ml of ink.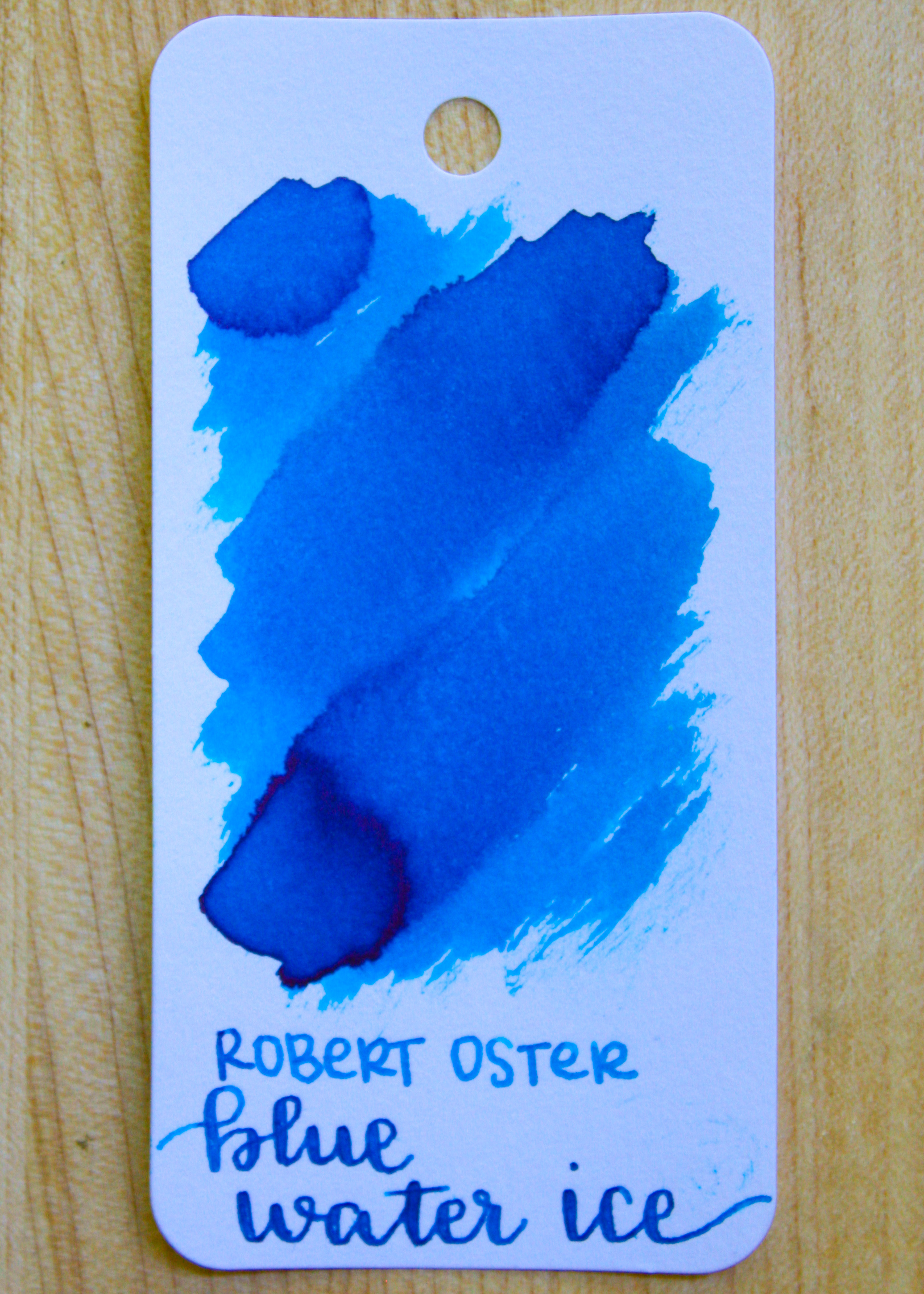 Blue Water Ice is a bright blue with pink sheen (I would call it a turquoise). Seasonally, it is a beautiful summer ink.
I love the pink sheen this ink has on Tomoe River-it's gorgeous.
I think this ink would be a great match for the Edison Nouveau Premier fountain pen, in Caribbean Sea. This pen has been on my wish list for a while, and this ink reminds me of that pen's color. (By the way, Goulet Pens announced their 2017 summer edition of the Edison Nouveau Premier, called Delphinium this morning. I saw it and immediately added it to my wish list.)
Feathering: Blue Water Ice only feathered a tiny bit on the Baron Fig paper, but did great on the other papers.
Bleeding: Blue Water Ice only bled on the swab on Tomoe River, but bled like crazy on the Baron Fig paper. Honestly, I wouldn't use this ink on Baron Fig paper, the paper just doesn't do this ink justice.
Show through: Blue Water Ice had low show through on Rhodia, medium on Tomoe River and Leuchtturm, and high on Baron Fig paper.
Shading: This ink had medium shading on every paper except Baron Fig. It had low sheen on every paper except Baron Fig (really, trust me, just don't use this ink on Baron Fig-it deserves a different paper). The sheen is pink, and shows up really well on Tomoe River swabs, but not much in everyday writing.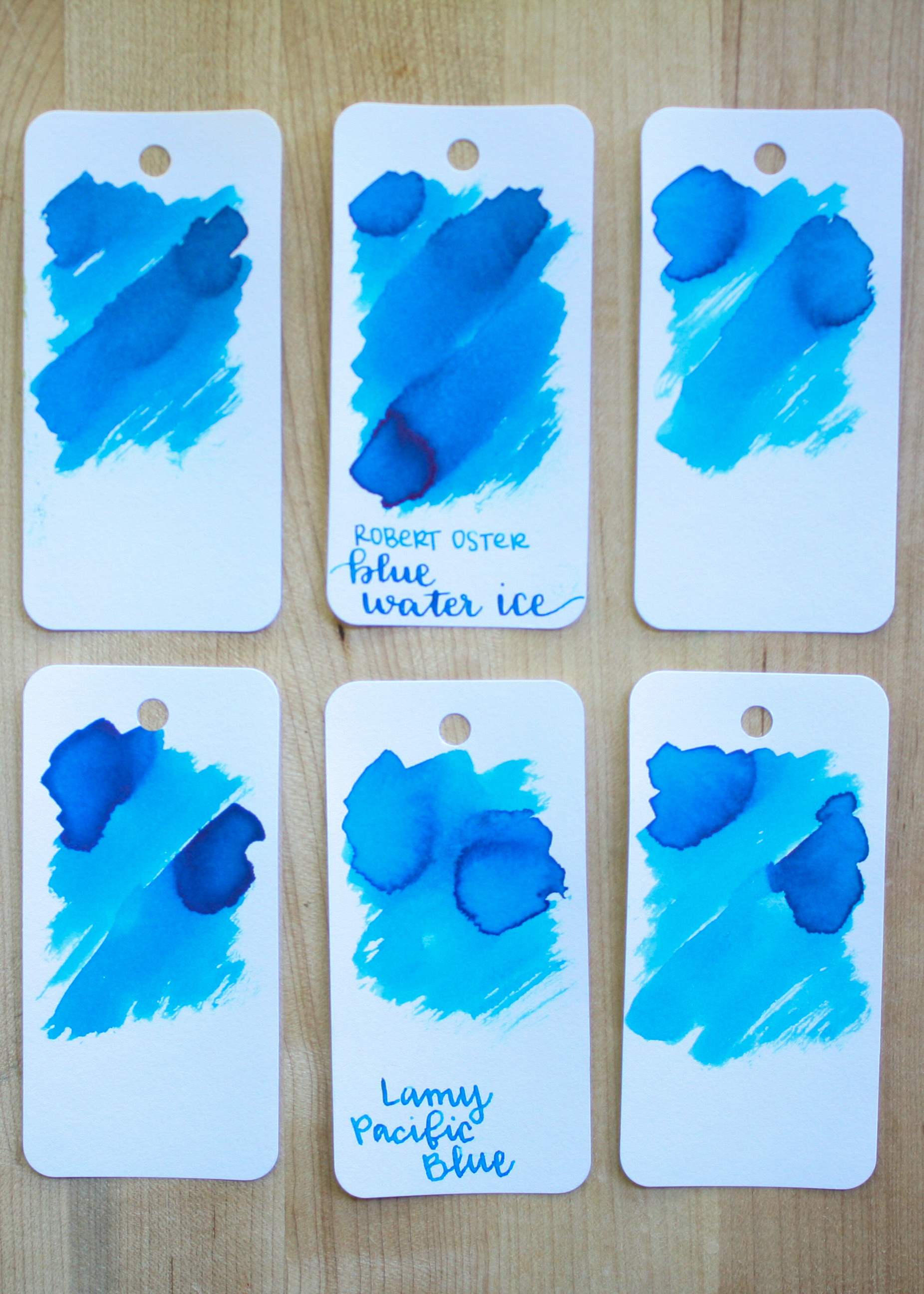 Top row, left to right: Robert Oster Bondi Blue, Robert Oster Blue Water Ice, and Robert Oster Australian Sky Blue. Bottom row: Noodler's Navajo Turquoise, Lamy Pacific Blue, and Diamine Havasu Turquoise.
I think the closest ink to Blue Water Ice is Noodler's Navajo Turquoise. Both are a bright blue (turquoise) with pink sheen (which didn't show up well in this picture).
Overall, I think this is the perfect summer blue. The flow is smooth, and I love the shading and the pink sheen. Give it a try-you might love it like I do.
Disclaimer: I purchased this ink myself, and all opinions and photos are my own.