Waterman Tender Purple is one of nine inks currently available from Waterman. I purchased my bottle from Vanness Pens.
One thing I have noticed about this ink is the inconsistency in the packaging. The ink is rather dark, the label on the bottle is a bit lighter than the ink, and the box is even lighter than that. I wish the packaging was consistent with the color of the ink. The box gives the impression that the ink is lighter and more red than it is.
I prefer glass bottles, and this bottle is a nice glass one with a plastic lid. The shape is interesting, but the label has the relevant information. I do wish there was a label on the lid.
Tender Purple is a medium purple with some green sheen. Seasonally, I would call this a summer purple.
The sheen on this ink made me wish I had a swab of Lamy Dark Lilac to compare it to.
Feathering: Tender Purple had a little bit of feathering on Baron Fig paper, but did great on the other papers.
Ghosting (show through): Tender Purple had low to medium ghosting on all of the papers.
Shading: Tender Purple had just a little bit of shading, and sheen that only shows on huge swabs on Tomoe River paper, and on the Col-o-ring swab. I didn't see any sheen come through in any of the writing. The sheen is a bright green when it does show.
Bleeding: Tender Purple had a lot of bleeding on Baron Fig paper, but it also bled in a few spots on Leuchtturm paper.
Swabs for comparison, left to right: J. Herbin Violette Pensee, Waterman Tender Purple, and Akkerman #14 Parkpop Purple. I think Violette Pensee is probably the closest ink to Tender Purple, but it doesn't have any sheen, and it's just a bit lighter.
Left to right: Diamine Imperial Purple, Cross Violet, and Diamine Lavender. All three of these have more red than Tender Purple does, but they are the closest swabs I have right now.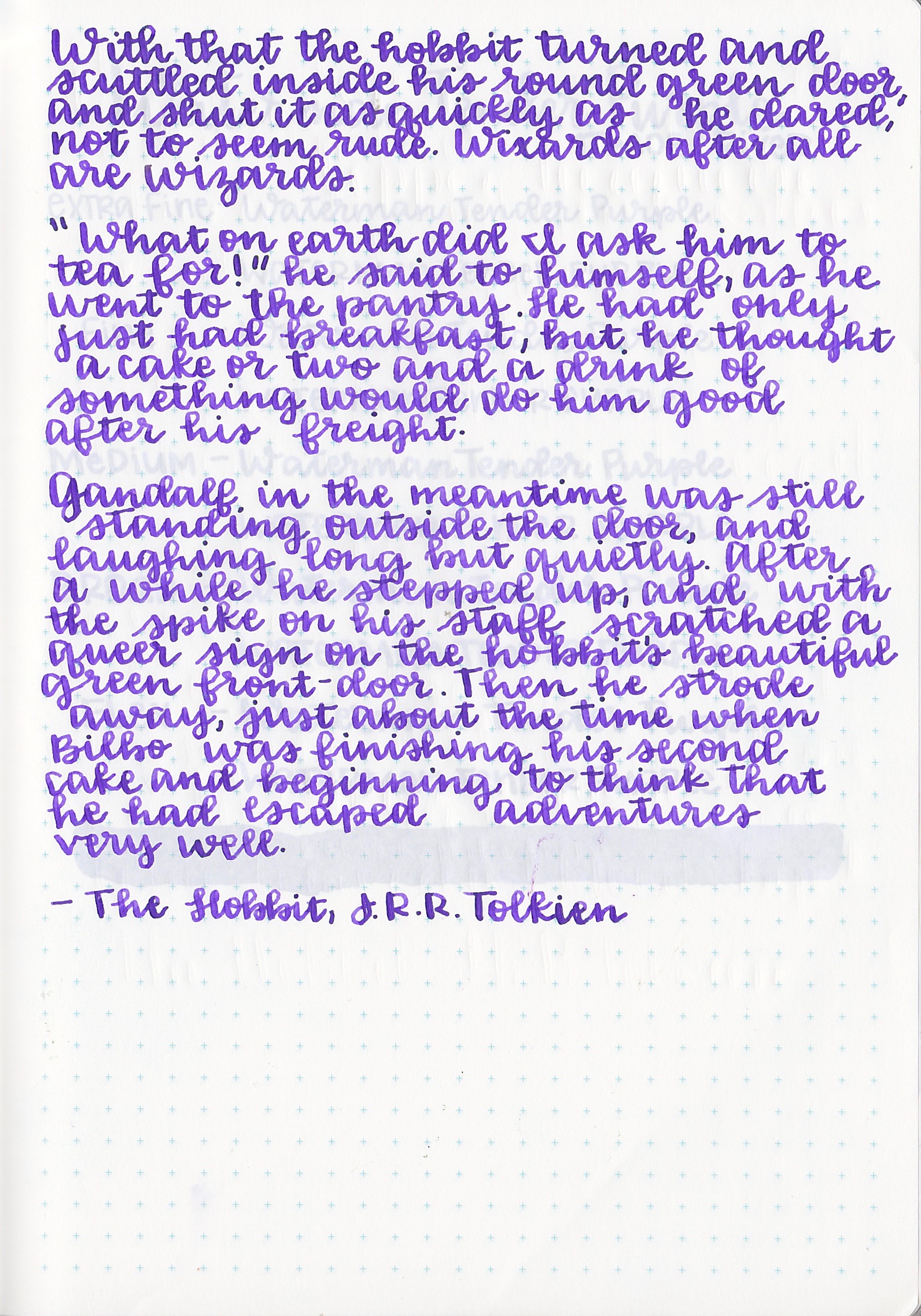 I enjoyed this ink in a Noodler's Ahab flex nib. It had an average flow, and dried pretty quickly.
Overall, Tender Purple is a nice saturated purple with a little bit of sheen in huge swabs. I wish there was more shading than I saw in my writing. If you are looking for a vibrant purple that performs well on most papers, this might be the ink for you.
Disclaimer: I purchased this ink myself, and all photos and opinions are my own. There are no affiliate links on this page.